From Risk to Resilience

Earthbeat Challenge 2022

The Challenge asked for stories which demonstrated community resilience against disaster risk.  Judges selected 6 stories and worked with the participants to produce their films.   Filmmakers were given a bursary to cover filming expenses,  Their films and projects are showcased through Earthbeat and were showed around the Global Platform organised by the UN office for Disaster Risk Resilience.
In the shadow of Africa's biggest dump site at Dandora, in Kenya's capital, there's an oasis of trees and vegetable plots threaded along the banks of the Nairobi river. This green sanctuary is the work of a group of determined local men. Nicera Wanjiru's film is a portrait of their group Canaan Riverside Green Peace.
Land in this congested city is at a premium but instead of letting the site go to developers, the community is planting trees, growing food and cleaning the river. With no outside help from the local authorities, everything the group has done has been from their own resources. The green swathe along the river helps protect the Korogocho neighbourhood from flooding, so this mini paradise plays a key role in local urban resilience. And it provides a vital oasis of cool in the heat of the urban sprawl.
Nicera's words have been lightly edited for clarity.
Filmmaking Credits
Nicera Wanjiru Kimani
Vian Abucheri
Mike Dimo
Equipment
Filmed using a Canon c100 and tripod
Using an external boom microphone
Editing software – Davinci Resolve.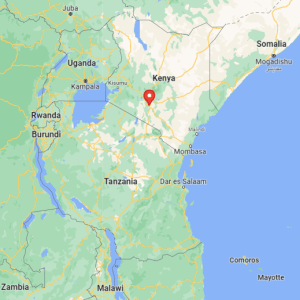 The project behind the film
Is the climate conversation just for young people? In an era when we all want to save the planet and all efforts seem to be directed at youth, I ask myself is there a space for the older generation to also join the team of climate champions? In my quest to tell stories about climate change, I met a group of older people who are cleaning up the Nairobi River, and planting trees and food crops. Mostly they have planted fruit, including pawpaw and passion but also indigenous vegetables. This group have forgotten the price of vegetables and fruit in the marketplace as they grow what they need.
Canaan Riverside Green Peace started in 2020 when this group came together.  Originally the group included young people but because they never had funding the young people left and only Shem who is now 37 years old remained. But to Shem, old is gold, and he wants to tap into the knowledge of these old wazees (elders). Due to lack of funding they have to contribute from their own pockets, to sustain the area and buy more trees for planting.
My name is Nicera I am from Nairobi, Kenya and I live in the informal settlements of Kibera. I am the founder of  Community Mappers, a woman leader in my community, a federation member at Muungano Wa Wanavijiji and also I tell stories about communities with my pen and a camera. I have lived in an informal settlement for a decade and seen lot of activities going on, both positive and negative. But the mainstream media only seem to report the negative sides of my community. I see very much less news about the positive.
This and other factors me to tell stories about communities, stories that you will never see in the mainstream maybe because for them it is not important or it doesn't suit them.
After research targeting two communities, we did a video about trash piles in our communities, and where they are located. We have done a film about evictions as well.  I have written articles which I would really love to do films about, as I did with this group.
I see a very bright future of this project. The difference within one year is amazing. You can tell this is a serious group.  Although some of them don't know what climate change is through lack of information, but still they do know why they need more trees and food.
I would love to get opportunities to talk about this initiative in platforms, help them to grow and look for funding. I would also love training about marketing my work. to reach a wider audience so people can get to know is happening in my community.  We need training to make better films, connection to share our work and networks and platforms to talk about this films.
If we don't tell our stories they cease to be stories.

The Risk to Resilience Earthbeat Challenge is supported by the UN Office for Disaster Risk Reduction (UNDRR).  The jury looked for stories which showcased community resilience against natural risks.