From Risk to Resilience

Earthbeat Challenge 2022

The Challenge asked for stories which demonstrated community resilience against disaster risk.  Judges selected 6 stories and worked with the participants to produce their films.   Filmmakers were given a bursary to cover filming expenses,  Their films and projects are showcased through Earthbeat and were showed around the Global Platform organised by the UN office for Disaster Risk Resilience.
Ann Maina from Kenya reports on the efforts to prevent landslides though the planting of bamboo plants locally.  She has never made a documentary film before, only some fun videos of places and landscapes.
She received some help from the bamboo association while filming. She hopes it can be used to change policies, and is keen to make a longer film using the rest of her footage which can be shared with researchers, professionals and people working in Murang'a.
She hopes the film will help people to better understand the local communities and to have a more in depth understanding of landslides in Kenya, since insufficient action is being done by local governments.
Ann's words have been lightly edited for clarity.
Filmmaking Credits
Ann Maina
Brendah Muthoni Maina
Erik Mawira
Equipment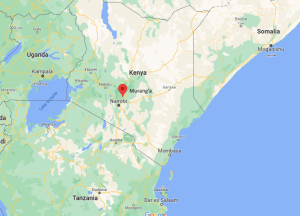 The project behind the film
Bamboo farming in Kenya is a conversation which has been going on over the past decade, with many discussions about its adaptation as a climate change prevention method. The area I filmed is one of the largest bamboo farms in Murang'a (Great Murang'a Bamboo farmer's co-operative). Landslides are highly prevalent in the area and the farm is used as a demonstration ground.
They help local residents adopt bamboo farming to prevent landslides as well as for economic benefits.  This is to supplement the planting of tea, which is a staple cash crop in the area but is also subject to landslide erosion. When landslides occur, the tea is carried away and people lose their livelihoods but bamboo is able to hold the soil firmly, proving its sustainability.
The bamboo farm in mention has very passionate individuals running it who are collaborating with local administrative officers to sensitize communities on bamboo adaptation by training and offering seedlings. They also are in the process to create a policy to control planting of the bluegum plant near riverbanks since they suck their rivers dry and at the same time are not suitable for planting on steep land. Muranga generally has a steep terrain.
I live near Murang'a and I have heard of many stories on landslides. Therefore when the opportunity to film came forth, it was the first thing that came to mind.   
Going to film on the ground was quite an interesting experience. I got to hear of actual stories that do not get the spotlight and I would like to improve my filming skills and create more films
I would like my next project to be about the food system and it's effect on climate change. This film took a solution based approach where I highlighted what can and is being done. I would like to also follow the same format for future films where I not only highlight the problem but also solutions.
What next?
Connections and a platform to showcase my work would be great.  Training to create better films will be very much appreciated as well.   Financial support would also be a great support to future filming.

The Risk to Resilience Earthbeat Challenge is supported by the UN Office for Disaster Risk Reduction (UNDRR).  The jury looked for stories which showcased community resilience against natural risks.