From Risk to Resilience

Earthbeat Challenge 2022

The Challenge asked for stories which demonstrated community resilience against disaster risk.  Judges selected 6 stories and worked with the participants to produce their films.   Filmmakers were given a bursary to cover filming expenses,  Their films and projects are showcased through Earthbeat and were showed around the Global Platform organised by the UN office for Disaster Risk Resilience.
Rachelle tells the story of the Disiplina Villages in the Philippines.  The village is a local government's project to provide housing for informal settler families (ISF) to relocate them from areas of the Valenzuela City which are at risk from flooding and other disasters coming as a result of the increasingly regular tropical cyclones.  This is a story of giving communities at risk a chance to have a better choice, a better life.
Rachelle believes that, "Filipino Resilience is often branded to the idea of survival- the ability of Filipinos to smile and stand-up after disasters. But that's is not how resilience should be. It's not about merely surviving amidst repeated losses and damages, but the ability to bounce back forward."
Rachelle's words have been lightly edited for clarity.
Filmmaking Credits
Rachelle Miranda - Writer and Director
Ranielle Navarro - Storyboard and Script Supervisor
Jireh Orobia - Video Editor
Mores Heramis - Director of Photography
Equipment
DSLR Camera
Drone for overhead shots
Adobe Premier for editing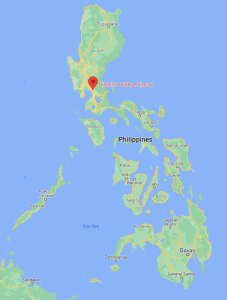 The project behind the film
Displina Village is a housing and resettlement program of the Local Government Unit of Valenzuela City with the collaboration and support from private sector and non-government organizations. The aim of the program is to ensure that people living in at-risk and high danger areas are relocated and provided with secured and safe homes. Aside from that, it also aims to uplift the morale, and aspirations of the families in order to live a better life. It is called "Disiplina" or "Discipline" because the communities are considered co-owners of the houses and the virtue of discipline is crucial in sustaining the program.
The program started after the onslaught of a devastating typhoon in Metro Manila last September 2009. It affected the capital region and affected the most vulnerable communities. The informal settler families are exposed to risks due to the location of their houses-living at the side of a river, flood prone areas, and the quality of housing materials.
At present, the Disiplina Village now hosts over 4,594 families. Other organizations might be interested supporting their "urban farm" which is a source of livelihood to some of the members of the community and also a source of food where the families can easily access vegetables.
Redefining Filipino Resilience
The theory of human motivation suggests that a sense of security is the foundation of human aspirations. Only a person who feels safe afford to dream, act and strive for a better life for his or her family. A person who aspires perseveres. They don't stop. they fight and seek to survive.
But we must never stop and settle only for survivability. We need to continue acting to uplift Filipino families living at risk. We do not want them to only survive, we need them to thrive. They must thrive. Because those who are resilient thrives
When I was attending my master's class in Ateneo De Manila University, one of our field works led me the "Disiplina Bignay Village", which I for me is a symbol of Filipino resilience. I realized from then the crucial role of governance in prioritizing people living at risk and the importance of "perspective" and "aspirations". Preventing disasters is also linked to providing a better chance to life, a better quality of life. Reducing disaster risk uplifts the living of the people most vulnerable to disasters. And I think, above all, this is the goal, to provide equal opportunities and access.
We scheduled a one day filming in Disiplina Bignay Village, a 14 hectare land area. It was a little challenging to go around the village but the houses and the areas are very accessible by electronic tricycles. I was assisted by Mores and King in the video. We interviewed a local leader, a community member, a member from the Local Government and a urban farmer. It was a fulfiiling day for me because I learned a lot from their experiences and they were able to share their dreams in the village.
Meanwhile, Rain and Jireh helped me in the editing of the film. We used adobe premier and used DSLR camera and drone.
It is my first actual experience to direct a film. I mostly write the script and content but this is the first time that I was hands on from start to finish. It was a challenge on my part because we got a lot of good material in the interview. But we are limited to a certain time.
What next?
This inspired me to capture more stories and tell stories that we can prevent risks, we can prevent disasters. And I want to personally capture this narrative and tell the world- that victims of disasters can also become victors.
While they are usually at the receiving end of donations and help, we can draw more inspirations on how they live and strive to live better. I want to focus on that.
The Disiplina Village intends to be more of a socialized housing program with the metro- not only limited to informal settlers but to other members of the community. The urban farmers also intent to prioritize in-city farming due to the lack of supply of vegetables and livestock products.
Organizations can help do better aside from just building physical infrastructure. People can help fund livelihood programs, scholarship and among others so that informal settlers can aspire to live a better life.

The Risk to Resilience Earthbeat Challenge is supported by the UN Office for Disaster Risk Reduction (UNDRR).  The jury looked for stories which showcased community resilience against natural risks.